About Us
About Us
We are the leading exporters of oxygen products, oxygen gas, medical oxygen gas, recreational oxygen, bottled oxygen including the complete range of oxygen filling plants since 1985. With process technology of ING. L. A. Boschi of Italy
Our company entered into a legal technical collaboration with ING. L. A. Boschi of Italy in the year 1985 for the acquisition of the complete manufacturing and process technology of oxygen products, devices, gas , cylinders ,cans which constitute apart of the comprehensive technology transfer of the categories air separation plants and air liquefying plants as oxygen is manufactured from air .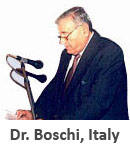 ING. L. A. Boschi of Italy was established, manufacturer and pioneer of oxygen and medical oxygen gas products including oxygen filling plants of the highest quality and technology to achieve the highest standard of oxygen gas for human consumption.
OXY99 oxygen bottle is a revolutionizing product ING. L & A Boschi of Italy started research in the year 1930 in Italy for oxygen in cylinders for hospitals and first-aid.
Subsequently, Dr. Boschi of Italy started R & D to get portable oxygen can/bottle which every person can carry and is easily accessible.
DR. Boschi of Italy had the vision in the early 1980s to save millions of life all over the globe by portable oxygen cans which can be every home, office, play ground, hospitals, nursing home, first aid kid of mountaineers, bikers, hikers, and for altitude.
Our Plants and facility for Oxygen products set up in New Delhi with technology and collaboration of DR. Boschi Italy.